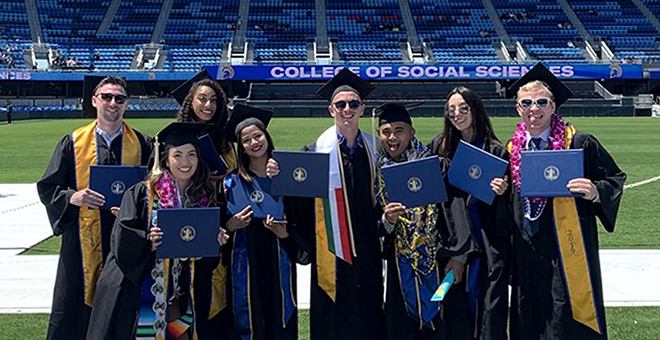 Fighting Racism - Message to our students
Dear Environmental Studies and Global Studies Students and Alumni,
The events of the past week compel all of us to recognize and act against the systemic racism that exists in American society and which undermines our efforts to build social and environmental justice for all people. A core principle of the Department of Environmental Studies -- which drives the faculty and staff of our department -- is to empower all our students to take action to create a better world.
We believe it is unacceptable that Black communities are targeted and terrorized by the police in this country. The recent killings of George Floyd, Breonna Taylor, Tony McDade, Regis Korchinski-Paquet and David McAtee follow in the wake of countless Black lives taken by police. We feel for your experiences of this moment, and are here to support you. Please make your voices heard -- above all -- by VOTING to heal our nation and make racism a thing of the past.
If you are looking for some relevant resources, the Dean of our College, Dr. Walt Jacobs, provides this information: "Here are a few links, but there are many other groups and ways you can get involved ... Ibram X. Kendi provides this reading list ... In particular, I recommend the article 'Your Black Colleagues May Look Like They're Okay — Chances Are They're Not' You may want to send a note of support to Black/African American friends and coworkers."
Your department faculty provide additional resources for you, which are listed at the end of this letter. Many of us are using some of these resources ourselves over the summer to help us better understand the issues, actions, and histories that brought our country to this moment. We hope to expand our own awareness so that we might be better able to incorporate anti-racism into our courses and our interactions with you and the broader community in which we live and work. We believe that by addressing institutionalized racism, as a department - faculty, staff, and students – we can become part of the solution.
We always strive to make our Department a haven of support and empowerment for you. Please reach out to me or your faculty if you wish to talk with any of us at this difficult time. And, always know you can come to me if you see ways to make your education at SJSU more supportive, equitable and engaging.
We are with all of you in these difficult times-- Dr. Trulio and all your faculty and staff
Katherine Cushing
Kate Davis
Benoit Delaveau
Gary Klee
Metha Klock
Robert Foran
Pat Ferraro
Shannon George
Marlon Guira
PJ Iyer
Amber Kerr
Rachel Lazzeri-Aerts
Ada Marquez
Dustin Mulvaney
Bruce Olszewski
Rachel O'Malley
Jay Ou
Amy Petersen
Mary Poffenroth
Carolina Prado
Costanza Rampini
Will Russell
Cristina Siegel
Chiao Su
Lynne Trulio
Terry Trumbull
Bernadette White
Anti-racism Reading List
'Reading Towards Abolition: A Reading List on Policing, Rebellion, and the Criminalization of Blackness' compiled by The Abusable Past Collective
https://www. radicalhistoryreview.org/ abusablepast/reading-towards- abolition-a-reading-list-on- policing-rebellion-and-the- criminalization-of-blackness/
'Abolition Study', a reading list compiled by Drs. Ashanté Reese and SA Smythe
https://docs.google.com/ document/u/0/d/ 1odJy1Mj5lsr94xbS_ 5EHhEYmvls9QsE5o7nLsyzWV4U/ mobilebasic
Layla F. Saad. Me and white supremacy: Combat Racism, Change the World, and Become a Good Ancestor. Sourcebooks, 2020.
Ibram X. Kendi. How to be an Antiracist. One World Publisher. 2019.
Patrisse Khan-Cullors & Asha Bandele. When They Call you a Terrorist: A Black Lives Matter Memior. St. Martin's Press. 2020.
Ijeoma Oluo. So You Want to Talk about Race. Seal Press. 2019.
Elisa Camahort Page, Carolyn Gerin, and Jamia Wilson. Road Map for Revolutionaries: Resistance, Activism, and Advocacy for All. Ten Speed Press. 2018.
Watch: Geographies of Racial Capitalism with Ruth Wilson Gilmore (https://www.youtube.com/ watch?v=2CS627aKrJI)
Dated: June 4, 2020
---
**COVID-19: Important Information for Students**

Dear Department of Environmental Studies students,
Your faculty and I hope you are doing well and staying safe in these difficult times. I wanted you to know that there are a number of support services and resources available to students to help you through this period. You can see a list of these resources by clicking on this link. I will update this information as more becomes available.
For graduating seniors: Although the Spring 2020 commencement has been postponed, please know that your ability to graduate has NOT been postponed. If you finish the classes you need for your degree, you will graduate! If you have any questions or concerns about graduation, please email me at lynne.trulio@sjsu.edu .
For all our majors and minors: If you are majoring or minoring in an Environmental Studies program and you need advising, I am happy to help you via phone and email! Just email me and we'll set up an appointment. For Global Studies majors, please start by contacting Dr. Katherine Cushing, the Global Studies Coordinator, for advising (katherine.cushing@sjsu.edu).
For MS students: If you have any concerns about progressing with your degree, please contact Dr. O'Malley (rachel.omalley@sjsu.edu) and your major advisor. They will help you chart a path forward.
Always feel free to contact me with any questions or concerns you may have. Your faculty and I are here for you!
Please stay safe and healthy--
Dr. Trulio, Chair
lynne.trulio@sjsu.edu
---

If you would like to join the SJSU Global Studies Union Club please visit our Facebook page.
We would also like to congratulate our Summer and Fall graduates: Christopher Justin Meszaros, Hao Wu, Camille Baloloy, Johanna Tuazon Espartero, Nicole Sophia Faker, Robert Tapiador Heylman, and Lena Elise Meadows. Congratulations everyone!
ADVISING HOURS
Need to speak with a faculty advisor about courses or your degree progress? Interested in finding out more about study abroad? Book an appointment with Professor Cushing to get a jump start on the academic year. Dr. Cushing will have office hours on Thursdays from 12:00-2:00pm.

There are two ways you can book an appointment:
Email: You can email Minh Chau Pham (minhchau.pham@sjsu.edu).
Phone: Call the Global Studies office at 408-924-5450 during regular business hours, Monday through Friday 9am-3:30pm.

WE WANT TO HEAR FROM YOU
What kinds of community building, academic, and career support would you like to get out of Global Studies this year? Complete this short Global Studies Student Survey to become part of the conversation in shaping your college experience. We need a core group of student leaders who are interested in taking a role in organizing events, so please write Professor Cushing (katherine.cushing@sjsu.edu) if you'd like to get involved.