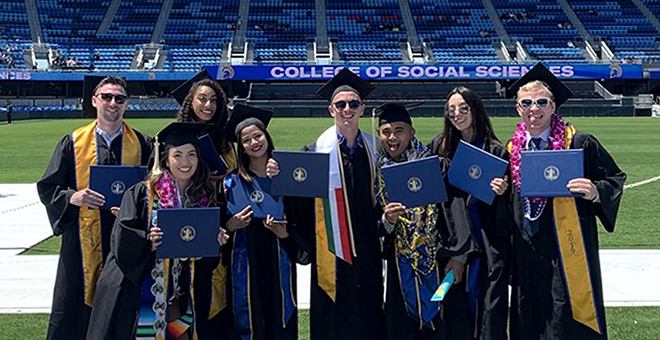 Announcements
**COVID-19: Important Information for Students**

Dear Department of Environmental Studies students,
Your faculty and I hope you are doing well and staying safe in these difficult times. I wanted you to know that there are a number of support services and resources available to students to help you through this period. You can see a list of these resources by clicking on this link. I will update this information as more becomes available.
For graduating seniors: Although the Spring 2020 commencement has been postponed, please know that your ability to graduate has NOT been postponed. If you finish the classes you need for your degree, you will graduate! If you have any questions or concerns about graduation, please email me at lynne.trulio@sjsu.edu .
For all our majors and minors: If you are majoring or minoring in an Environmental Studies program and you need advising, I am happy to help you via phone and email! Just email me and we'll set up an appointment. For Global Studies majors, please start by contacting Dr. Katherine Cushing, the Global Studies Coordinator, for advising (katherine.cushing@sjsu.edu).
For MS students: If you have any concerns about progressing with your degree, please contact Dr. Will Russell (will.russell@sjsu.edu) and your major advisor. They will help you chart a path forward.
Always feel free to contact me with any questions or concerns you may have. Your faculty and I are here for you!
Please stay safe and healthy--
Dr. Trulio, Chair
lynne.trulio@sjsu.edu
---

If you would like to join the SJSU Global Studies Union Club please visit our Facebook page.
We would also like to congratulate our Summer and Fall graduates: Christopher Justin Meszaros, Hao Wu, Camille Baloloy, Johanna Tuazon Espartero, Nicole Sophia Faker, Robert Tapiador Heylman, and Lena Elise Meadows. Congratulations everyone!
ADVISING HOURS
Need to speak with a faculty advisor about courses or your degree progress? Interested in finding out more about study abroad? Book an appointment with Professor Cushing to get a jump start on the academic year. Dr. Cushing will have office hours on Thursdays from 12:00-2:00pm.

There are two ways you can book an appointment:
Email: You can email Minh Chau Pham (minhchau.pham@sjsu.edu).
Phone: Call the Global Studies office at 408-924-5450 during regular business hours, Monday through Friday 9am-3:30pm.

WE WANT TO HEAR FROM YOU
What kinds of community building, academic, and career support would you like to get out of Global Studies this year? Complete this short Global Studies Student Survey to become part of the conversation in shaping your college experience. We need a core group of student leaders who are interested in taking a role in organizing events, so please write Professor Cushing (katherine.cushing@sjsu.edu) if you'd like to get involved.