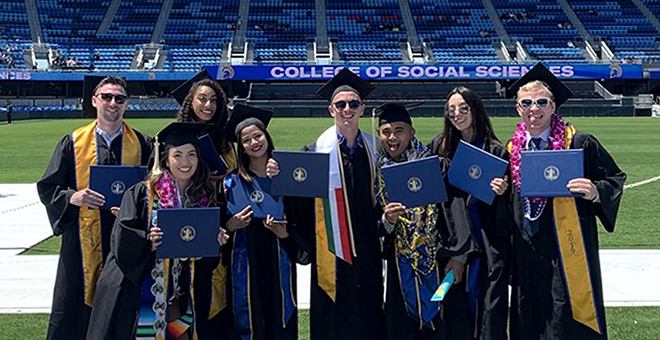 Welcome to the Global Studies Program in the Department of Environmental Studies!
The purpose of our program is to better understand phenomena that bridge or know no boundaries and apply that knowledge to becoming better global citizens. Examples of global phenomena include rivers crossing international boundaries, Pokemon, and the complex supply chain that resulted in the production of your smart phone. We pride ourselves on being a unique interdisciplinary degree program that allows students to take classes from over a dozen different departments at SJSU ranging from Anthropology to Engineering. A unique highlight of our program is a culminating study abroad opportunity that our students describe as "life changing." Global Studies majors and minors learn to look at the world critically and holistically. They also learn to appreciate and understand other cultures. By taking a set of core classes in issue and theory, combined with electives in sustainability, security and technology, development and human rights, and culture and society, global studies students develop the mature perspective needed to thrive and lead in today's complex world. Recent Global Studies graduates have gone on to a wide variety of jobs right after graduation in education, healthcare, the Peace Corps, and high tech. Annually, several graduates also continue on to graduate school in fields such as law, medicine, and international relations.
"To learn about Global Studies Programs, go to: https://www.sjsu.edu/envs/undergraduate/index.html
To read about our Faculty, go to: https://www.sjsu.edu/envs/faculty/
To read about careers in Global Studies, go to: TBA
---
If you would like to join the SJSU Global Studies Union Club please visit our Facebook page.
We would also like to congratulate our Summer and Fall graduates: Christopher Justin Meszaros, Hao Wu, Camille Baloloy, Johanna Tuazon Espartero, Nicole Sophia Faker, Robert Tapiador Heylman, and Lena Elise Meadows. Congratulations everyone!
ADVISING HOURS
Need to speak with a faculty advisor about courses or your degree progress? Interested in finding out more about study abroad?
Book an appointment by contacting Minh Pham at minhchau.pham@sjsu.edu

WE WANT TO HEAR FROM YOU
What kinds of community building, academic, and career support would you like to get out of Global Studies this year? Complete this short Global Studies Student Survey to become part of the conversation in shaping your college experience. We need a core group of student leaders who are interested in taking a role in organizing events, so please write Professor Cushing (katherine.cushing@sjsu.edu) if you'd like to get involved.